It is our goal to do more than simply mask the pain, but instead help you to find a lasting, natural solution that promotes healing and increases the richness of your life.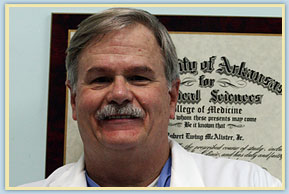 Marion Military Institute, Marion, Alabama – A.S. in Biology and Chemistry.
Spring Hill College, Mobile, AL – B.S. in Biology.
University of Arkansas for Medical Sciences, Little Rock, Arkansas. M.D. Degree.
– Rotating internship of Georgia Baptist Medical Center
– Family Medicine Residency at Louisiana State University, New Orleans, at Charity Hospital of Louisiana.
– American Association of Orthopedic Medicine ( Board Of Directors )
– Southern Pain Society
– Florida Academy of Pain Medicine
– American Society Interventional Pain Physicians
– American Back Society
– American Academy of Osteopathy (Specialty of Osteopathic Manipulation)
– American College of Osteopathic Pain Management and Sclerotherapy
– The Cranial Academy ( Osteopathic ) (Specialty of manipulation of the cranium and central nervous system)
– American Academy of Family Medicine
– Alabama Academy of Family Medicine
– American Academy of Neural Therapy
– Alabama Acupuncture Council — President
– Georgia Academy Family Practice Journal — Editorial Board
– MASA – Medical Association of the State of Alabama
– Baldwin County Medical Association
– American Academy of Regenerative Orthopedic Medicine
– Intra- articular steroid injections
– Tendon/Ligament steroid injections
– Trigger point injections
– Fluoroscopic Facet Medial Branch Blocks
– Prolotherapy (Sclerotherapy, Regenerative injection treatment)
– PRP injections (Platelet Rich Plasma)
– Scar Injections
– Osteopathic Manipulation Therapy
– Diagnostic Ultrasound
– Ultrasound guided joint injections
– Ultrasound guided nerve injections/blocks
– Ultrasound guided soft tissue injections
– Therapeutic ultrasound treatments
I was referred to Dr. McAlister in December of 2009, for pain management due to deteriorating discs in my lumbar and cervical spine. I went there thinking that I was going to have to spend the rest of my life on a daily diet of pain medication which I did not want to do. During my initial visit, while in the waiting room, I read a posted article about prolotherapy, a treatment for my condition. I then spoke with Dr. McAlister about the effectiveness of prolotherapy and decided to research the subject. I subsequently began prolotherapy treatments. The results were very good and long-lasting, allowing me to eventually resume some exercise and running. Although I still have to occasionally take pain medication, I do not have to take it on a daily basis. I recommend that anyone suffering from the same or similar conditions give prolotherapy a try.
"I have suffered from neck and back pain for years. Dr. McAlister provides a treatment called Manipulation Therapy involves physical interaction with specific body parts. Manipulation Therapy has provided me relief with my neck and low back pain. Manipulation therapy has really improved my quality of life."
"Dr McAlister has performed prolo on my shoulder and my neck. After suffering for years with shoulder and neck pain, I have 75% more pain free days. It has also cut down the number of headaches from several a week to maybe just one a month. The combination of adjustments and prolo is a great mix of pain relief and has definitely improved my outlook on life."
"Thank God for Prolotherapy!
Surgery was recommended in 2004 for a rotator cuff problem. Prolotherapy took care of it, and it's been A-OK for 8 years now. Then I had a ganglion cyst on my elbow (from sitting so long at my desk computer!) Dr. McAlister took care of and cured it with three simple, painless treatments…

Later, I had an issue on my left side that caused right-front headaches, and Dr. McAlister cured this problem too — all without surgery!"
"Dr. McAlister,
I just wanted to let you know how successful my PROLO THERAPY results have been. After several years of chronic neck pain I have finally found some relief. I had tried almost any and everything I could think of when I read about PROLO THERAPY. With degrees in the medical field I have never been afraid to think outside the box when it comes to medicine. For centuries medicine has been practiced all over the world in many fashions that we do not recognize in modern day America. I can honestly say that now for a year I have not had one headache or neck pain which had reached a level that some days I could hardly get out of bed. I hope many other people may experience the same wonderful results I have."
"…I spoke to you about prolotherapy and what a great fan I am of it. […] I have also used a Mobile-area based doctor, namely Dr. Robert McAlister, Eastern Shore Pain Management Center, to assist my son with prolotherapy for his should joint problems. Likewise, both my wife and I have received great healing in our knee joints from prolotherapy." (Read Full Letter)
All services must be paid in full at the time the service is completed. Patients have the option to pre-pay for a service in time leading up to the service, but must pay the balance at the time the service is provided.
We accept payment with cash, debit card and the following credit cards:
Visa, MasterCard, Discover, and American Express
Sorry, we do not accept PERSONAL Checks.
Patients who do not show or call to reschedule within 24 hr prior to their appointment, will be charged a no-show fee.
We accept Blue Cross Blue Shield
813 Estella St, Fairhope, AL 36532 (Near McDonald's in Fairhope)
Back Pain

Neck & Shoulder Pain

Painful Elbow

Painful Wrist & Hand

Painful Hip

Painful Knee

Painful Ankle & Foot

Painful Scars

Reflex Sympathetic Dystrophy

CRP Syndrome